Regular price
Sale price
$38.00 USD
Unit price
per
Sale
Sold out
Native Neem Organic Neem Oil Insecticide 250ml
4 x 250ml bottles
Cold-Pressed and Water-Soluble
BioGro certified organic 
Also available in 250ml:  Click Here
Our neem oil is certified organic and pure in quality. It does not contain any Aflatoxins. Please do not get misguided by the false information spread by other suppliers or competitors.
Know the difference :
Native Neem Organic Neem Oil Insecticide differs from other commercial neem oils in that other commercial neem oils are emulsified by adding solvents to make them water-soluble. In this form, it is then able to be utilized for home garden use. Native Neem Organic Neem Oil Insecticide is produced using natural emulsifiers, making it chemical-free, made with raw and cold-pressed neem oil, and ideal for your garden. 
Native Neem Pure Neem Oil differs from other commercial neem oils in that we are able to offer you the choice of either Pure or Emulsified Neem Oil.  For personal and health care purposes use our Native Neem certified organic 100% Pure Neem Oil (medical grade).
Here in New Zealand, we differentiate between the two types of oils by labelling them:
Pure Neem Oil – for personal and healthcare
Neem Oil Insecticide – for garden use

Exempt from registration under the ACVM Act 1997.
Approved pursuant to the HSNO Act 1996 - HSR101549
Not all Neem Oils are the same. Native Neem Organic Neem Oil Insecticide is one of the highest-grade certified organic oils available today. Our Neem Oil contains high amounts of azadirachtin and is patented and processed in the traditional Indian way without the use of heat, chemicals, or petrochemicals. In this way, it retains all the well-balanced nutrients, many of which would otherwise be lost.  

As a preventative, Native Neem Organic Neem Oil Insecticide can be used when pest problems are just starting to show. Spraying to coat the leaf surface, will prevent the germination of any fungal spores. Neem is effective against rot, mildew, rust, scab, leaf spot, and blight. It works as a barrier, not as a fungicide, and makes a great garden spray as a general tonic for your plants and soil.
Mode of Working:
Numerous insect species are repelled by the active ingredients in the neem seed. Finding the taste and smell unpleasant, they avoid any plants that have been treated with neem extracts. Insects die after eating the leaves or other parts of plants treated with these substances. The behaviour of some insects changes and it also reduces their ability to lay eggs. Neem is known to affect the natural life cycle of many insects by preventing them from passing to the next stage of their development. Thus nymphs cannot pass on to their next stage if they absorb Neem oil through contact or digestion. They then die. 
Contains Organic and Natural ingredients:
Neem (Azadirachta Indica) extract. (Naturally emulsified to make it water-soluble).
Benefits & Usage
Plant Health:
Native Neem Neem Oil Insecticide Controls Broad Spectrum Fungicide / Insecticide / Miticide For Indoor / Outdoor use on Ornamental Flowering Plants, Trees, Shrubs, Foliage, and Home and Residential Landscapes.

Native Neem Neem Oil Insecticide is effective in controlling Black Spots, Mildew, Rust, Scab, Whiteflies, Aphids, scale, borer, aphids, spider mites, grass grubs, mealy bugs, thrips, leaf spots, codling moths, nematodes, leaf rollers, leafhoppers, botrytis, twig and tip blight, Alternaria, etc. 
Our Neem Oil Insecticide is effective in controlling more than 200 insects and pests.
Native Neem Neem Oil is 

non-toxic

 to humans, birds, earthworms or animals.


How to use Native Neem Neem Oil Insecticide on Plants
Shake the bottle well
Add 5 to 15 ml of Neem Oil Insecticide to 1 litre of water and mix well
Native Neem Organic Neem Oil Insecticide should be applied on a 7 to 14-day schedule until the potential for disease development is no longer present.
To control disease already present, apply Native Neem Organic Neem Oil Insecticide on a 7-day schedule until disease pressure is eliminated. Then continue spraying on a 14-day schedule to prevent the disease from reoccurring.
To prevent rust leaf spot disease, anthracnose, and scab, begin applications at the first sign of spring budding.
To prevent powdery mildew, apply in mid-summer or when the disease is first detected. Applications should continue until disease pressure no longer exists.
Usage: 
Shake well. Add 5 to 15 ml of Neem Oil Insecticide to 1 litre of water and mix well
Apply on a 7 to 14-day schedule until the potential for disease development is no longer present.
To control the disease already present, apply a 7-day schedule until the disease is eliminated. Then continue spraying on a 14-day schedule to prevent the disease from reoccurring. 
Terms of Trade
Below are only brief terms of trade. Please see the footer for detailed terms and conditions.
Orders:  We will try to process your orders on the same working day after receiving full payment. (Bank payment may take up to two working days). If we receive your order after the late afternoon (after our cut-off time), your order will be processed on the next working day.  Please note that orders will not be processed during public holidays and weekends.
 Courier:  All processed orders will be picked up on the same day, however, courier drivers sometimes scan the parcel on the next day after reaching the depot, therefore, you may not always get the correct status.  You will get an automated courier link directly from the courier portal to track your parcel.  Please check your spam folder in case you do not receive it.  Please bear in mind that once the order has been dispatched, we have no control over delivery.  Please do not blame us or give a low rating just because you didn't receive the order on time.  This has nothing to do with delays, however, we will definitely help to track down the order and contact the courier company if any delays in reaching your order.  We would suggest that you allow 3-4 working days within Auckland, 5-6 working days within the rest of the north island, and 6-8 working days for the South Island and rural could take another day or two extras.  Normally all small orders will be sent through courier bags which should take only 3-4 working days all over the county (urban) but in the rare case, your parcel can be delayed. Please do not panic, just let us know if you don't receive it in those time frames and we will help to resolve the issue.
Damaged Products: Sometimes due to the handling issue from the courier end, products may be received in damaged or broken condition.  We will be happy to replace any damages done by courier.  However, you must notify us of any damages within 24 hours after you receive your order.  Please do not destroy or dispose of any evidence of damaged product.  We will need photos, video and evidence of the damaged product.  If you destroy or dispose of it without our consent then we will not be able to give you a replacement or refund. We may also ask you to return the product back to us. For that, we will email you a courier ticket which you can use to send the product back. You don't have to bear any courier costs again.  We will also replace the products at our cost. Please also make sure that you do not use a sharp knife or cutter to open courier bags, this can damage the pack inside. Just rip it off with your hand and compost it.  We use compostable courier bags.
Change or Cancel the Order:  We are happy to change or cancel any of your orders.  Please note that you need to let us know before the cutoff time.  Normally it is the best time to call us on our landline first in the morning between 9 am and 11 am.  If your order has already been dispatched before you informed us, then we can also refund your money however, the customer has to bear to and fro courier charges.  We will only refund the product cost back to you.  You can either send it back at your cost or we can send you a courier ticket and will deduct the cost from the total. If you have received the order and want to replace it then, you must send the product in sealed pack condition.  Any open product could not be refunded.
Refund:  As per the above statements our refund policy is very simple, however, if you receive the product and you just don't like the taste or colour, we cannot give a refund on personal preference.  Please note that natural product varies in colour and taste according to the time of harvest and place of harvest.  Please do not expect 100% similarity each time.  However, the benefits of each product will remain the same. We always stand behind the quality of our products.  Please note that all our product batches are tested for uniform quality and character.
Customer Service: No matter what we do; some customers will still criticize and be unhappy. Our goal is to address and solve problems in a way that is a win-win situation for the customer and the company. This means listening to the customer, taking the information provided about the problem and finding a solution to replace the product or improve service. Thank you for your understanding and support. 
SDS
PRECAUTIONS
WARNING:                
The product may cause an allergic skin reaction; causes serious eye irritation: suspected of causing damage to fertility / unborn child; harmful to aquatic life with long-lasting effects; and harmful to terrestrial vertebrates.
PRECAUTIONS: Keep out of the reach of children; Read label before use; If medical advice is needed have product container / label available; If on skin wash with plenty of water; If in eyes rinse cautiously with water; If skin or eye irritation occurs seek medical advice; Wear protective clothing; Avoid release to the environment; Store at room temperature / avoid direct sunlight or freezing; Store locked up; Dispose of according to local regulations/bylaws. EMERGENCY CONTACT DETAILS: NZ Poisons Centre 0800POISON (0800784766)
Share
View full details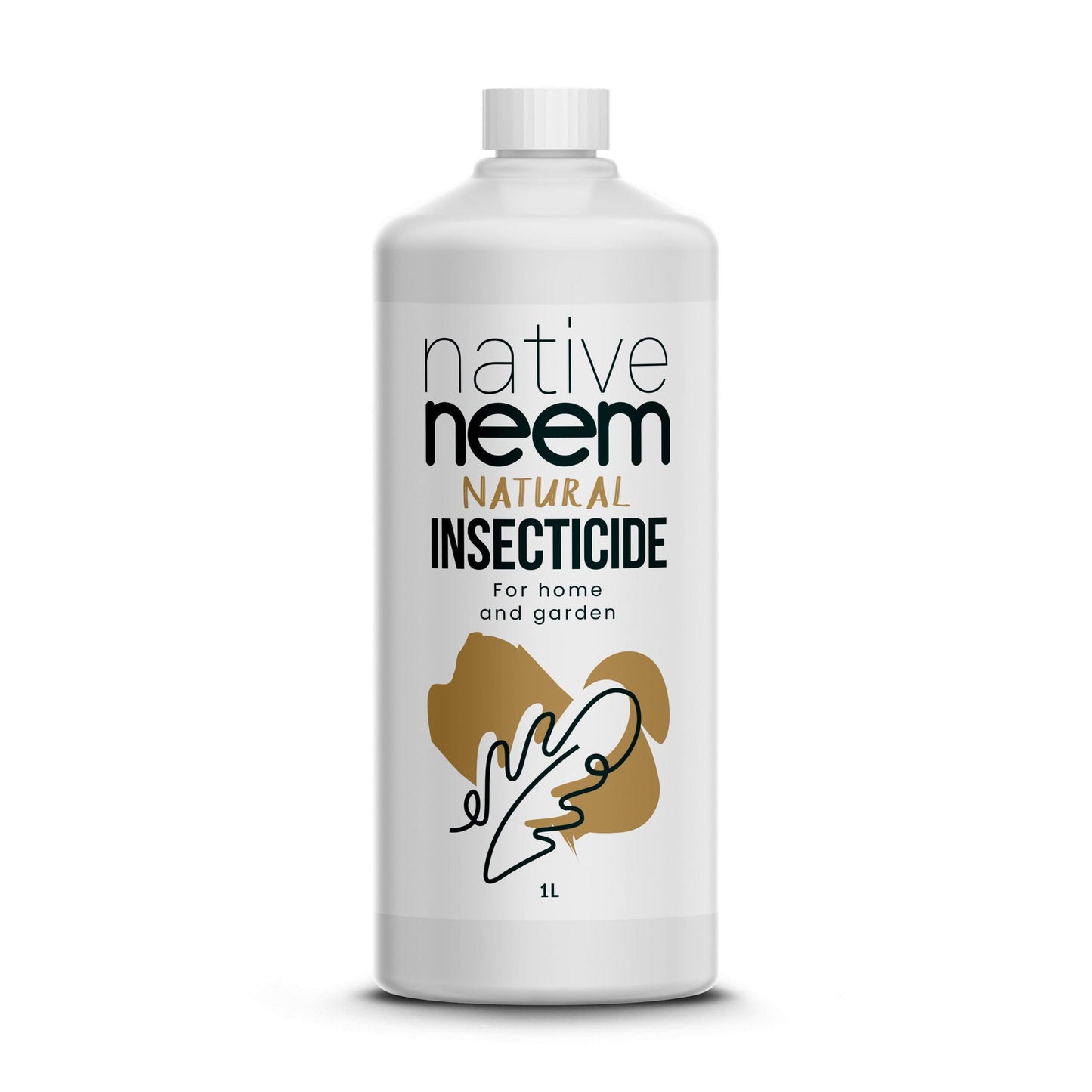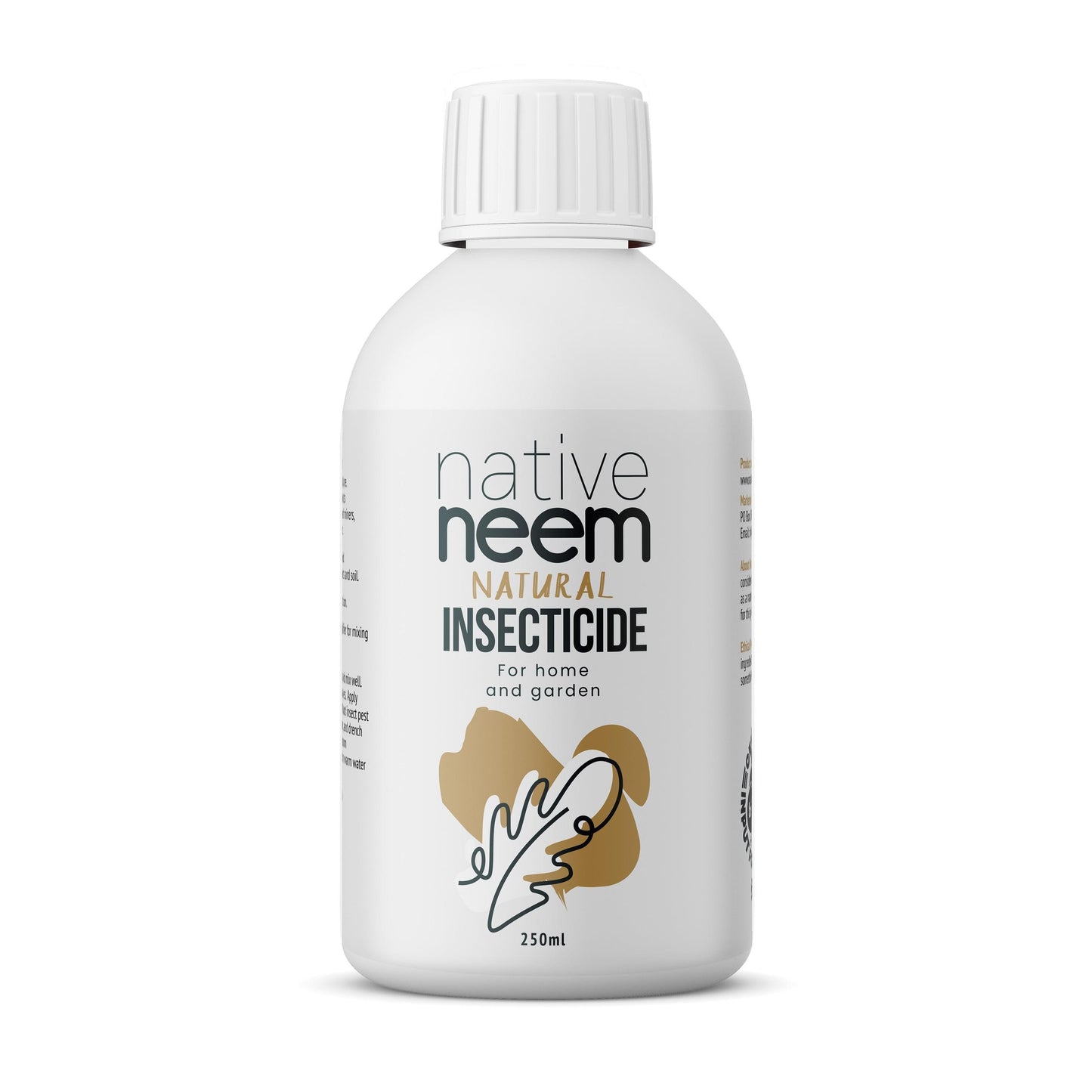 Best ever
The only spray I'll use in my garden now...I think I've finally managed to get rid of my white fly infestation...touch wood🤪
Great Product
Dealing with Green Trading was so easy, good communication re delivery etc and the product is working well getting rid of thrip and other insects on the Bay Trees on my 70 metre driveway
Ant deterrent
I have used neem for a long time to help the plants along and keep the critters off them. This year I have discovered that if I spray the soil with the diluted neem it seems to make the ants move on. I know many people say ants are not a problem but if I have a plant not thriving I can be sure there is an ants nest under it. I have just started using the granules so don't know how that will do on my plants growth and health but it will probably help.
Yaaaay no more scale
Scale and mealy bug seems to have disappeared on our beautiful indoor palm. Took a couple of days to stop them returning and its dissuaded the ants that like to live in the stem also. Can sleep well knowing our beautiful plant is not being eaten alive! Not an unpleasant smell sprayed it on our other variety of indoor plants and they all look happy and vibrant, some with a beautiful gloss to their leaves. Great product!
Organic Neem Oil Insecticide 1L
Bought to spray on milled pine to prevent borer as we didn't want to use chemical treatment. Went on really well, bugs have disappeared, seems to be working a treat. Recommended for others who don't want to use chemicals and have a more natural treatment for eliminating bugs.