Regular price
Sale price
$15.00 USD
Unit price
per
Sale
Sold out
Green Trading Organic Haritaki Powder 250g
For Digestion, Detoxification & Rejuvenation
BioGro Certified Organic
About Haritaki:
Terminalia Chebula, commonly known as black- or chebulic myrobalan, is a species of Terminalia, native to India and other South Asian countries. In Ayurveda, haritaki is said to be the mother of all herbs for its many health benefits. The Haritaki tree can be about 30 meters high. The fruit of the tree is usually harvested between November and March. The fruit has a slightly bitter, astringent taste and has many medicinal properties.
In India, myrobalan is also called Haritaki. Haritaki means, "that which cleans and enhances the glow of the skin." That is the etymological breakdown. The basic idea is that Haritaki is a fruit, which helps, regulate many diseases from the body and brings a lustre and shine to the skin. A fairly formidable fruit Haritaki (Terminalia chebula) is one of the best herbs for balancing Vata dosha. Supporting the body's innate cleansing process, it gently removes accumulated natural toxins in the gastrointestinal tract. As a rejuvenation, it helps strengthen and nourish the tissues and supports the proper function of the colon, lungs, liver, and spleen. Haritaki is traditionally used as a remedy for all vata-related imbalances. It maintains regular elimination, helps promote healthy body mass, and supports comfortable and complete digestion.
Ingredients:
100% Organic Haritaki powder. No fillers, binders, or common allergens. No artificial colors or preservatives are added. No heavy metals. Vegan and Gluten-Free
Benefits & Usage
Green Trading Haritaki Helps Supports:
The gallic acid present in Haritaki kills the E. Coli bacteria in the intestine. It helps prevents stomach infections, kills worms, and boosts the activities of the liver and the spleen.

The tannin present in the fruit helps in detoxification. It is also used as a laxative. It helps in eliminating constipation, purifies the digestive system, and helps in eliminating the harmful substances produced by metabolism.

The chebulic and neo-chebulic acid present in the fruits of the Haritaki plant acts as an antioxidant. It helps prevents toxicity of the liver caused as a side effect of some medicines and helps prevents harmful free radicals from the body.

Regular consumption of Haritaki will help in the reduction of skin problems.  Grounded Haritaki, when applied over the skin, will help soothe acne, sunburns, rashes, eczema, etc.

Haritaki is helpful for tackling obesity. It cleanses the stomach, aids in the digestion, assimilation, and metabolism of food in the stomach, and helps in increasing the metabolic rate and energy expenditure of the body. By boosting the secretion of bile, Haritaki helps in the mobilization of the stored fat in the body. It also keeps the appetite under control. For those who have successfully reduced their weight through diet and exercise, the consumption of Haritaki helps them to keep to their ideal weight.
Green Trading Haritaki Powder Dose: 
We recommend that you play with the dosage amount you take. We recommend that you start with small amounts, 1/2 teaspoon taken at night, and then increase until you can take a large teaspoon each night. If you react strongly to the Haritaki, reduce the amount taken until you reach an amount that works for you. Leave at least two hours of gap after your meal. The reason to take it at night is to cleanse the system so that you have a strong bowel movement in the morning. This cleansing and emptiness lead to greater energy, clarity, and awareness during the day. (Must keep at least 2 hours gap after food)
Terms of Trade
Below are only brief terms of trade. Please see the footer for detailed terms and conditions.
Orders:  We will try to process your orders on the same working day after receiving full payment. (Bank payment may take up to two working days). If we receive your order after the late afternoon (after our cut-off time), your order will be processed on the next working day.  Please note that orders will not be processed during public holidays and weekends.
 Courier:  All processed orders will be picked up on the same day, however, courier drivers sometimes scan the parcel on the next day after reaching the depot, therefore, you may not always get the correct status.  You will get an automated courier link directly from the courier portal to track your parcel.  Please check your spam folder in case you do not receive it.  Please bear in mind that once the order has been dispatched, we have no control over delivery.  Please do not blame us or give a low rating just because you don't receive the order on time.  This has nothing to do with delays, however, we will defiantly help to track down the order and contact the courier company if any delays in reaching your order.  We would suggest that you allow 3-4 working days within Auckland, 5-6 working days within the rest of the north island, and 6-8 working days for the South Island, and rural could take another day or two extras.  Normally all small orders will be sent through courier bags which should take only 3-4 working days all over the county (urban) but in the rare case, your parcel can be delayed. Please do not get panic, just let us know if you don't receive it in those time frames and we will help to resolve the issue.
Damaged Products: Sometimes due to the handling issue from the courier end, products may receive in damaged or broken condition.  We will be happy to replace any damages done by courier.  However, you must notify us of any damages within 24 hours after you receive your order.  Please do not destroy or dispose of any evidence of damaged product.  We will need photos, video, and evidence of the damaged product.  If you destroy or dispose of it without our consent then we will not be able to give you a replacement or refund. We may also ask you to return the product back to us. For that, we will email you a courier ticket which you can use to send the product back. You don't have to bear any courier costs again.  We will also replace the products at our cost. Please also make sure that you do not use a sharp knife or cutter to open courier bags, this can damage the pack inside. Just rip it off with your hand and compost it.  We use compostable courier bags.
Change or Cancel the Order:  We are happy to change or cancel any of your orders.  Please note that you need to let us know before the cutoff time.  Normally it is the best time to call us on our landline first in the morning between 9 am and 11 am.  If your order has already been dispatched before you inform us then also, we can refund your money however, the customer has to bear to and fro courier charges.  We will only refund the product cost back to you.  You can either send it back at your cost or we can send you a courier ticket and will deduct the cost from the total. If you have received the order and want to replace it then, you must send the product in sealed pack condition.  Any open product could not be refunded.
Refund:  As per the above statements our refund policy is very simple, however, if you receive the product and if you just don't like the taste or colour, we cannot give a refund on personal preference.  Please note that natural product varies in colour and taste according to the time of harvest and place of harvest.  Please do not expect 100% similarity each time.  However, the benefits of each product will remain the same. We always stand behind the quality of our products.  Please note that all our product batches are tested for uniform quality and character.
Customer Service: No matter what we do; some customers will still criticize and be unhappy. Our goal is to address and solve problems in a way that is a win-win situation for the customer and the company. This means listening to the customer, taking the information provided about the problem, and finding a solution to replace the product or improve service. Thank you for your understanding and support. 
Share
View full details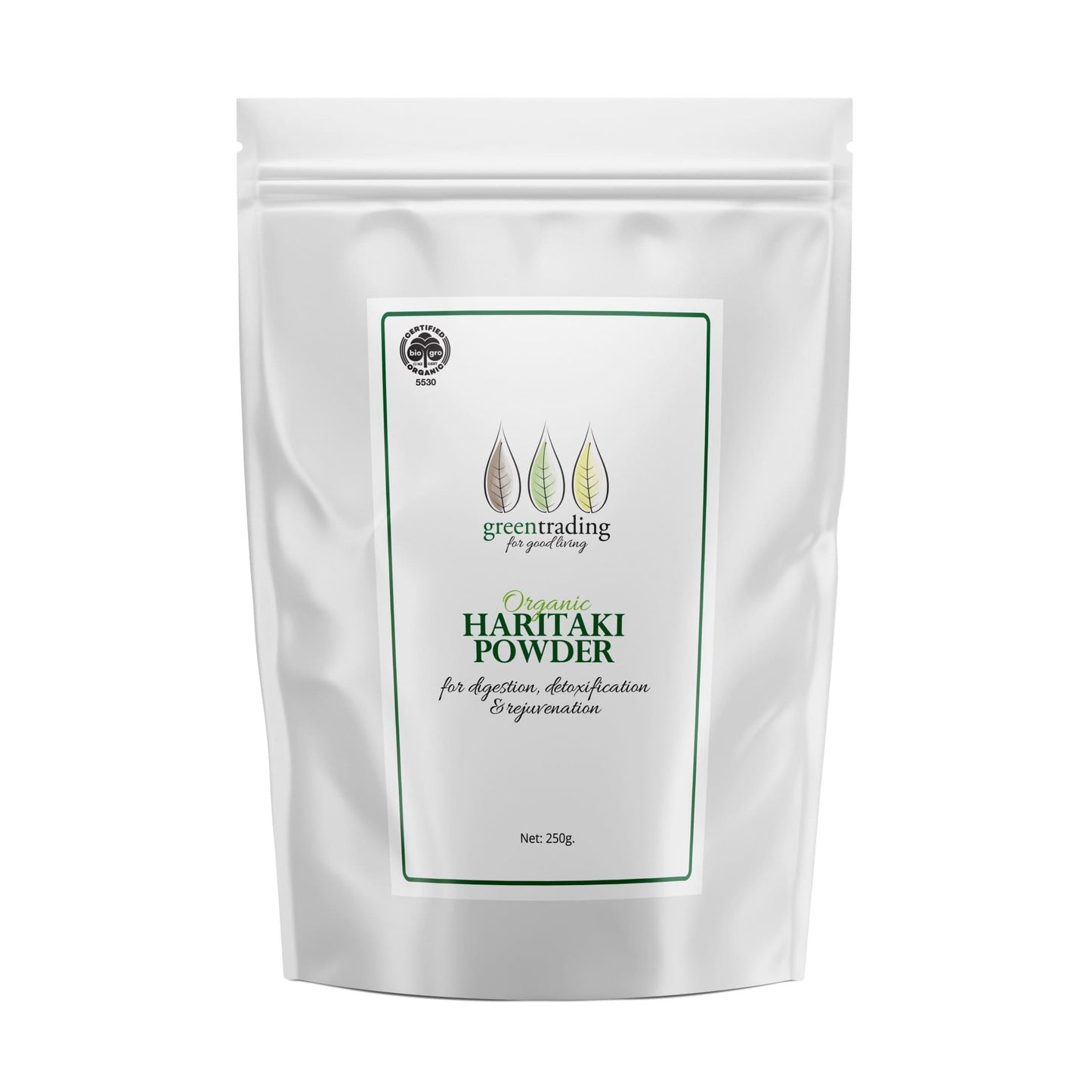 Great product
It's quick order delivery on time . Great customer services with very nice products quality as well.
HARITAKI POWDER
I have only started on the Haritaki powder 4 days ago.
We have both noticed that we sleep like a rock, and it certainly make you go to the toilet regularly,
The taste isn't that nice but palatable. We bought capsules and put the powder into them.
Much nicer to take lol.
I bought it for my skin and energy levels, so havnt been taking it long enough yet to judge, but great sleeps so far.
No pain no gain
It's best to start small and gradually increase dose as suggested. I had a sore stomach after using it the first two times but it helped to flush me out, I'm getting used to it now and have stabilised. I feel its really helping with ongoing (vata imbalance) digestive issues.
Good product
Fast delivery and good quality product
Ok product
Good price and quick delivery. The product did do good in few areas but not in all. Overall ok product