Regular price
Sale price
$88.00 USD
Unit price
per
Sale
Sold out
Native Neem Organic Neem Tree Granules 20kg
Plant Growth Promoter
BioGro Certified Organic
Also available in 5kg

:  Click Here
Also available in 500g

:  Click Here
Native Neem Organic Neem Tree Granules have been used as a natural insecticide for thousands of years. This is a natural and organic product that prevents and kills nasty insects in the garden. If used at 4-6 weekly intervals you will very rarely need to use any other sprays. Good for all soils, all crops, and all seasons. It works primarily by increasing the humus content of the soil. It is an all-purpose organic soil conditioner, ideal for low organic matter soils. Native Neem is organic certified tree granules that are the residue left from the first extraction process after the kernels of the seeds are crushed to extract the oil.
These granules are known as the 'King' among other organic fertilizers due to their high Azadirachtin content and high NPK value. 
Our research proves that the following nematodes are controlled by neem cake: Arenaria, Hapoalim's Indicus, Helicotylenchus Erythrina, Pratylenchus sp., Meloidogyne Incognita, M.Javanica (root-knot nematode found in vegetable crops like okra, chili, French beans, tomato, black gram, green gram, eggplant, etc) Parasitic Fungi, R.Brassica, Reniform Nematode, Root-knot Nematodes, Rotylenchulus reniformis (found on okra, French and garden beans), Radopholus similis (banana) Trylenchor hynchus - various species, etc.
Other Pests: Grain Moth, Lesser Grain Moth, Red Flour Beetle. 
Neem cake/granules are harder to find but are a highly bio-available fertilizer, exceptionally effective at controlling garden pests. They may also assist in repelling mammals such as deer, rabbits, and squirrels.
Contains Organic and Natural ingredients:
Crushed Neem seed kernels
Store in a cool dry place away from sunlight
Benefits & Usage
Benefits:
The neem granules should be added to the soil at planting time. Alternatively, it should be applied to the ground surface well before insects that attack your plants are about. Presently, Grass Grub, Porina, and Grass Grub Beetle are all problems that can be controlled with Neem. If you are having problems with your tomatoes and potatoes, Neem is particularly efficacious and the best natural safeguard against the potato/tomato psyllid. 
Stops progression from eggs to grubs
Stops grubs from becoming flying insects
Reduces insect attack
Controls grass grub
Controls root nematodes
Controls mealybugs
Controls tomato/potato psyllid
Controls white butterfly attack 
Protects Container plants
Unlike chemicals, insects do not become 'super' insects that develop resistance
Field Studies have shown that Native Neem Neem Tree Granules dosed at 250 kilograms per hectare have the efficacy of commercial neem cake at a dosage of 1000 kilograms per hectare
Totally prevents hatching and acts as an insecticide on eggs in the soil
Enriches the soil with natural nutrients
The chlorophyll content increases daily  
Totally organic matter, does no harm to soil, water, or the environment, and induces the growth of beneficial soil flora and fauna
Increases the nutrients and microorganisms of the soil and develops as totally organic matter as follows:
Induces the nitrification process
The decomposition of Native Neem neem cake releases fatty acids, aldehydes, ketones, amino acids, carbohydrates, and free sulfur, which form the precursor materials for plant growth and metabolism
Once decomposed, many of the released compounds hinder the growth of pathogenic fungus
The taste, odour, and organic composition retards repels/inhibits the growth and development of plant-parasitic nematodes
Root galling can be controlled
Directions of Native Neem Neem Granules: 
New Plants: Apply a handful of granules to the planting hole at a depth of15-20cm, mix into the soil, then sprinkle another handful of granules on top of the soil around the plants                       
Established Plants: 50 -80 grams per square meter, lightly raked around the plants
Grass Grub Treatment: Sprinkle the granules over the recently mowed lawn at the rate of 50 grams per square meter and water to settle into the soil. The best time for treating is around December as the females are laying their eggs and the grubs are hatching. Also about April/May/June/July depending on where you are in NZ.
Very effective around shrubs and tall trees where spraying is difficult
Store at room temperature in dry and dark conditions
Harmless to earthworms
·       Note:
It is common to see white mould on granules when not covered with soil. This is a natural breakdown process and it will not harm your plant. The mould will be beneficial to the component of the soil. If you do not want to see the mould, then put some soil on top of the granules, this will also dampen the smell of the granules


Terms of Trade
Below are only brief terms of trade. Please see the footer for detailed terms and conditions.
Orders:  We will try to process your orders on the same working day after receiving full payment. (Bank payment may take up to two working days). If we receive your order after the late afternoon (after our cut-off time), your order will be processed on the next working day.  Please note that orders will not be processed during public holidays and weekends.
 Courier:  All processed orders will be picked up on the same day, however, courier drivers sometimes scan the parcel on the next day after reaching the depot, therefore, you may not always get the correct status.  You will get an automated courier link directly from the courier portal to track your parcel.  Please check your spam folder in case you do not receive it.  Please bear in mind that once the order has been dispatched, we have no control over delivery.  Please do not blame us or give a low rating just because you didn't receive the order on time.  This has nothing to do with delays, however, we will definitely help to track down the order and contact the courier company if any delays in reaching your order.  We would suggest that you allow 3-4 working days within Auckland, 5-6 working days within the rest of the north island, and 6-8 working days for the South Island, and rural could take another day or two extras.  Normally all small orders will be sent through courier bags which should take only 3-4 working days all over the county (urban) but in the rare case, your parcel can be delayed. Please do not panic, just let us know if you don't receive it in those time frames and we will help to resolve the issue.
Damaged Products: Sometimes due to the handling issue from the courier end, products may be received in damaged or broken condition.  We will be happy to replace any damages done by courier.  However, you must notify us of any damages within 24 hours after you receive your order.  Please do not destroy or dispose of any evidence of damaged product.  We will need photos, video, and evidence of the damaged product.  If you destroy or dispose of it without our consent then we will not be able to give you a replacement or refund. We may also ask you to return the product back to us. For that, we will email you a courier ticket which you can use to send the product back. You don't have to bear any courier costs again.  We will also replace the products at our cost. Please also make sure that you do not use a sharp knife or cutter to open courier bags, this can damage the pack inside. Just rip it off with your hand and compost it.  We use compostable courier bags.
Change or Cancel the Order:  We are happy to change or cancel any of your orders.  Please note that you need to let us know before the cutoff time.  Normally it is the best time to call us on our landline first in the morning between 9 am and 11 am.  If your order has already been dispatched before you informed us then also, then we can also refund your money however, the customer has to bear to and fro courier charges.  We will only refund the product cost back to you.  You can either send it back at your cost or we can send you a courier ticket and will deduct the cost from the total. If you have received the order and want to replace it then, you must send the product in sealed pack condition.  Any open product could not be refunded.
Refund:  As per the above statements our refund policy is very simple, however, if you receive the product and you just don't like the taste or color, we cannot give a refund on personal preference.  Please note that natural product varies in color and taste according to the time of harvest and place of harvest.  Please do not expect 100% similarity each time.  However, the benefits of each product will remain the same. We always stand behind the quality of our products.  Please note that all our product batches are tested for uniform quality and character.
Customer Service: No matter what we do; some customers will still criticize and be unhappy. Our goal is to address and solve problems in a way that is a win-win situation for the customer and the company. This means listening to the customer, taking the information provided about the problem, and finding a solution to replace the product or improve service. Thank you for your understanding and support. 
SDS
Share
View full details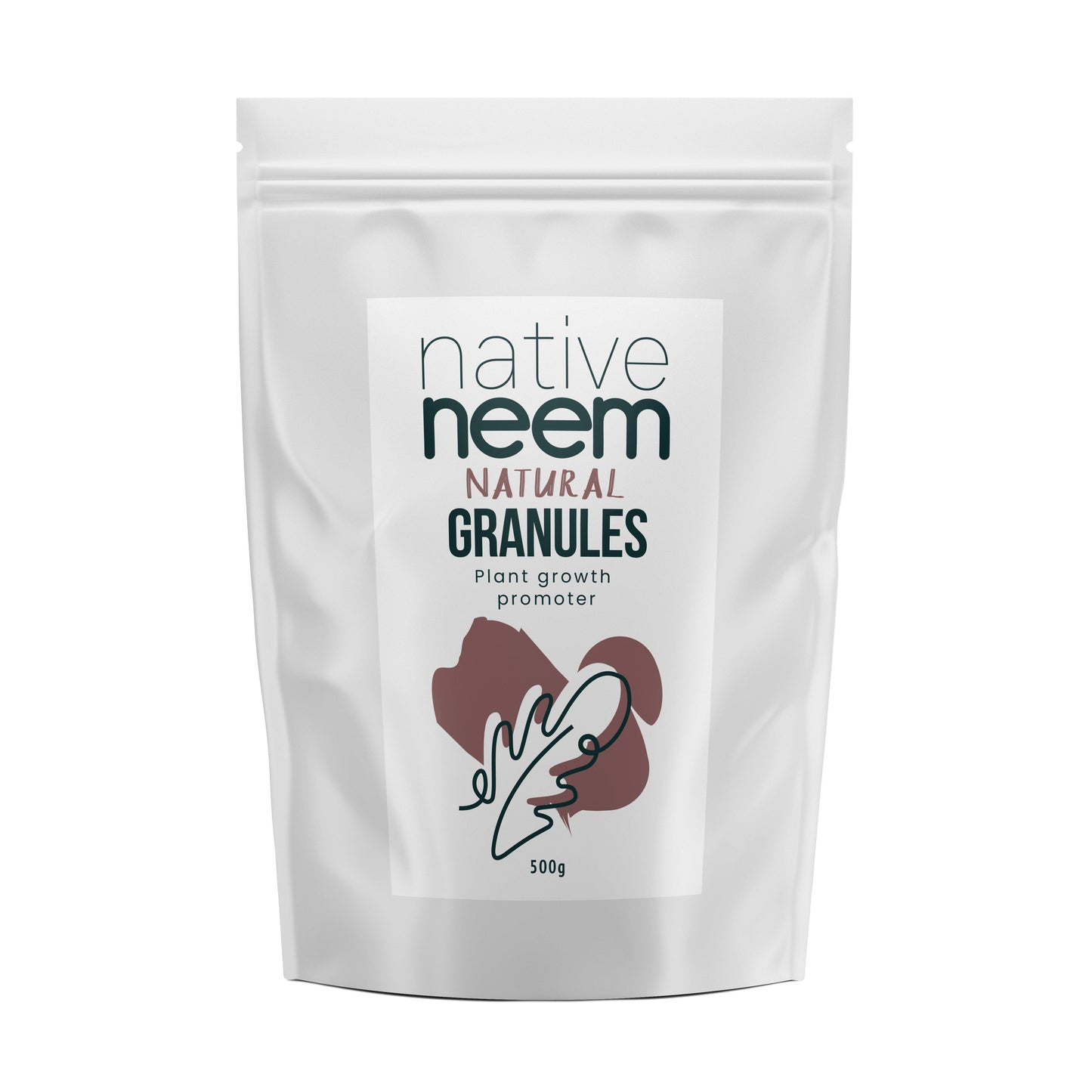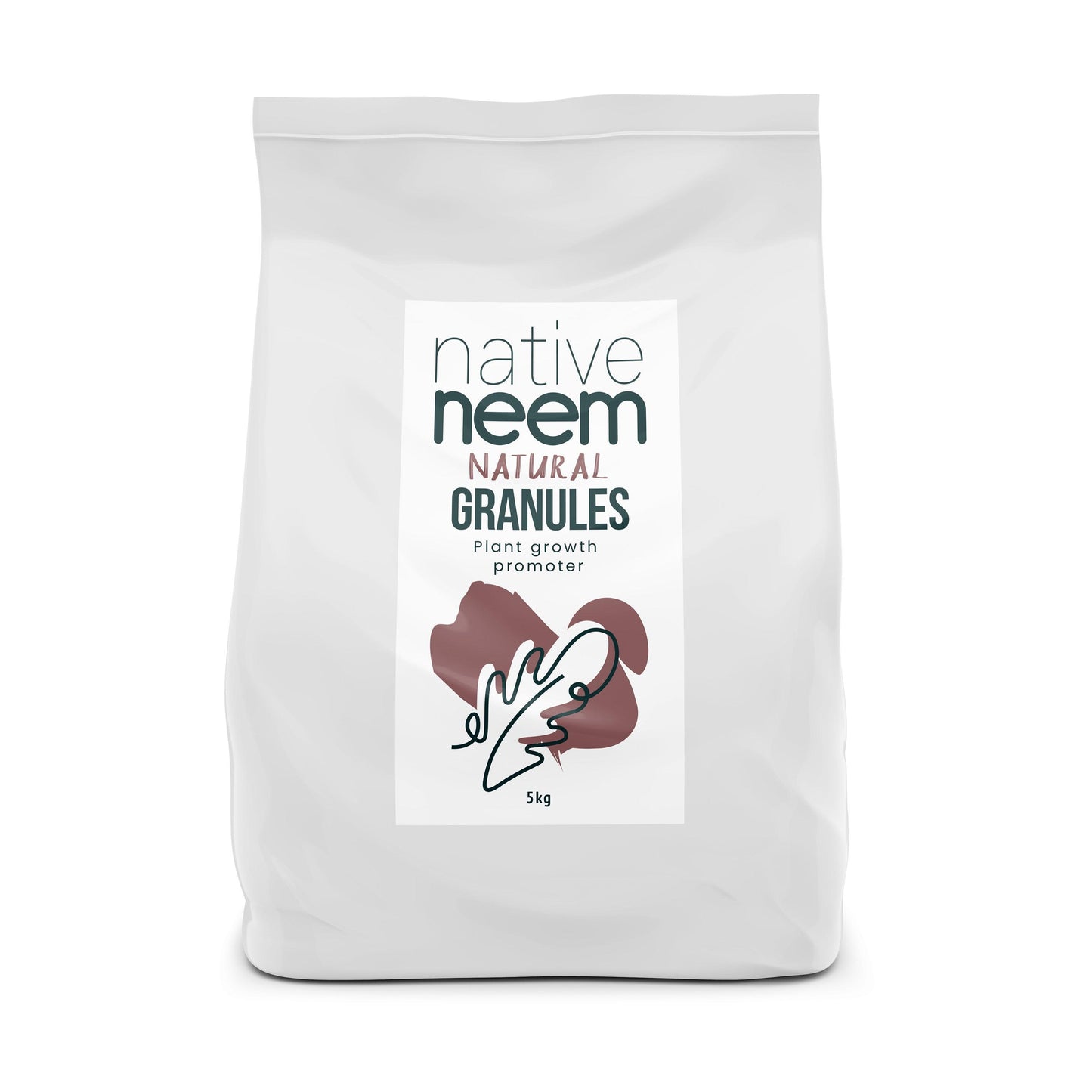 Neem granules
This parcel has not yet been received.
Great service
Thanks a lot for the great service and speedy delivery much appreciated
20kg Neem granules
Great service. Great product - keeps rabbits and possums away from fruit trees, although we are trialling it to help with guava moth infestations in fruit.
500g Neem
Good service from Green Trading and good product
20 kg neem granules
Prompt delivery - good value